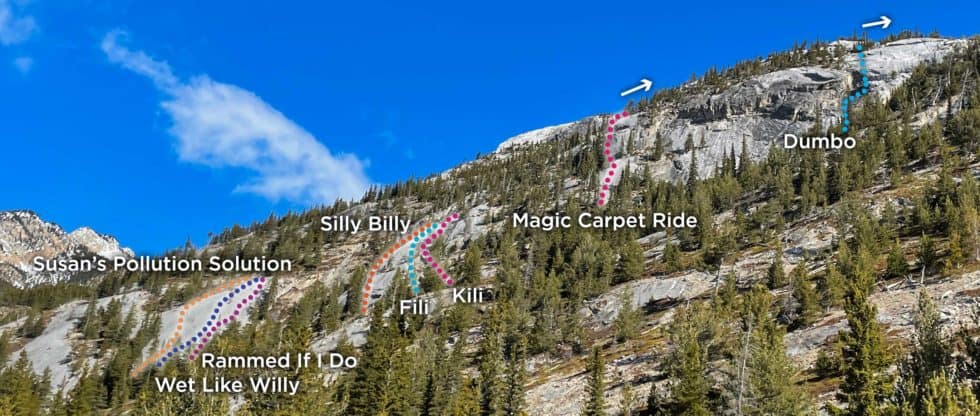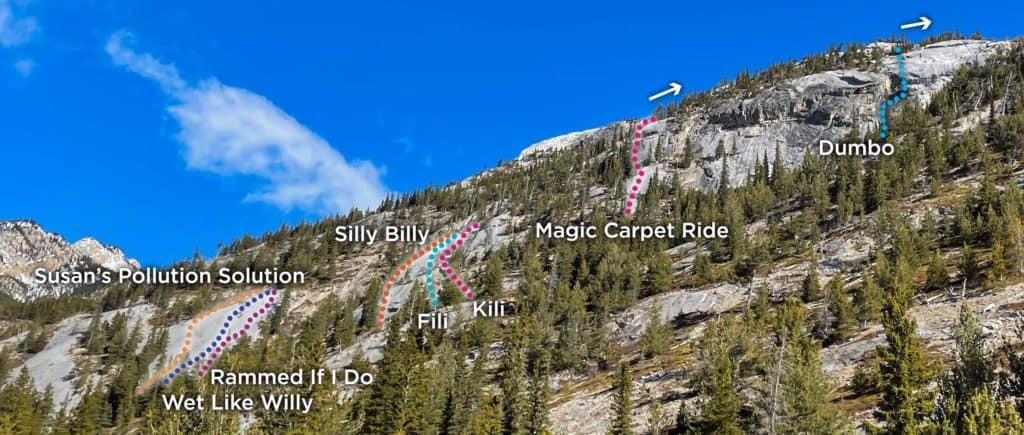 Lookout Slabs
Offering better climbing and larger than it looks, Lookout Slabs is a suntrap with a short approach and has an easy walk-off back down to the windy point parking lot. There is potential here for many 2-3 pitch climbs. Yes it can be slabby, but the rich texture and interesting formations and runnels make up for it. It is well worth a visit, for nothing else than the opportunity to 2 or three routes in one day.
Approach:
Park as for Windy Point Parking lot. Head West from the parking lot heading along the Lake and eventually you will be walking next to the highway. Follow the highway till you see the Lookout Slabs on your right (North, approx. 52.254333,-116.400385) cross the highway and look out for Red flagging tape heading up a grassy hill towards the slabs. Follow the flagging tape trending left and you will reach the base of the slabs. Wet like Willy is the first route directly in front of you as you are gearing up. Susan's pollution solution starts left of Wet like Willy and 5 meters up the hill. 10-15 minutes.
If you are approaching for  Dumbo the approach is fairly similar but the first hill on the right (North) is the one you take to get up to the major slab formation that has the trad route scary Bighorn (5.9) on it. There will be flagging tape marking the way. A burnt out tree with flagging tape marks the start of the route. 20-30 minutes.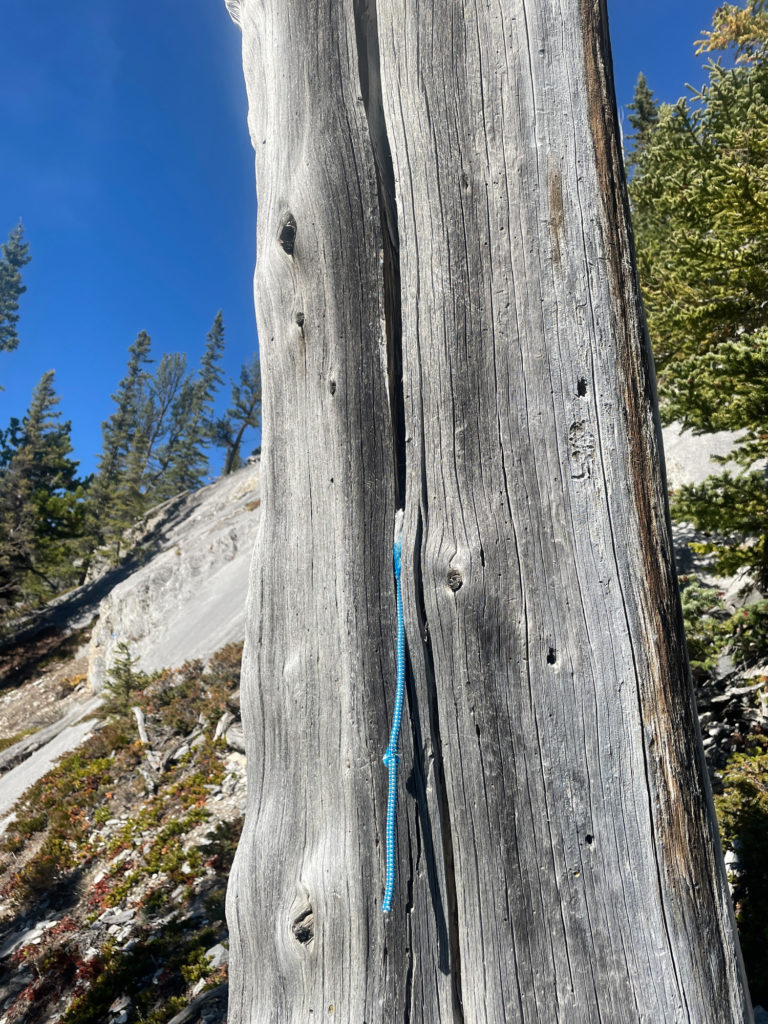 Blue cordalette marks the start of the route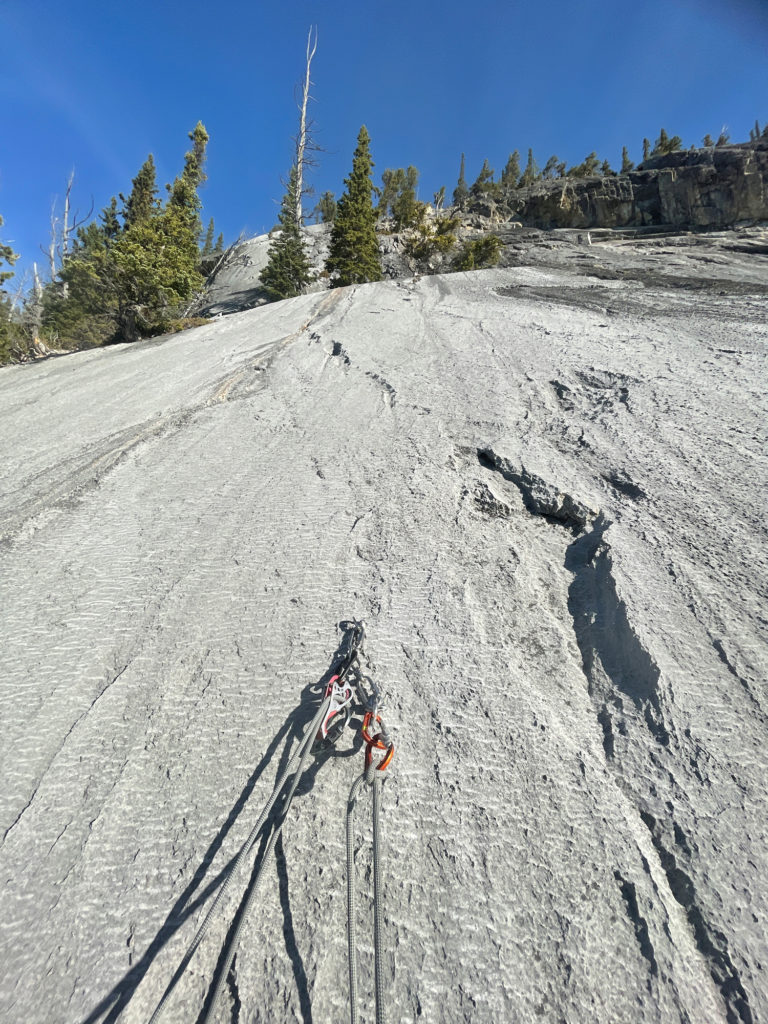 First belay station, looking up at Pitch 2
Pitch 1: 40m 5.6:
Bolt 1 is up about 5 meters, clip bolts to the chain anchor.
Pitch 2: 30m 5.7
Climb up on dark textured slab up to a short crux pulling onto a steep ramp and onto a nice belay ledge with 2 belay bolts
(second picture)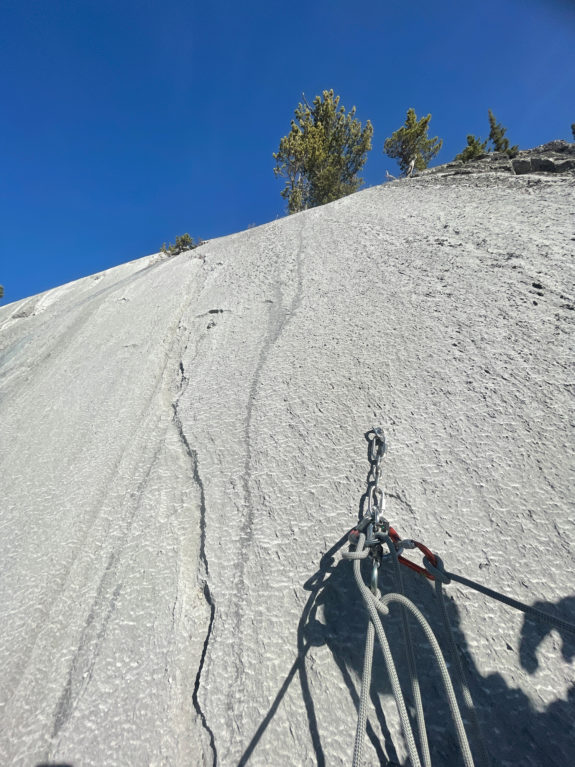 At the third belay, looking at pitch 4
Pitch 3: 35m, 5.8
Trend left and up into the route crux. Fun technical slabby footwork that is well protected. Push through the crux and then climb another ten meters to a chain station
Pitch 4: 35m 5.8
This one comes at you right off the bat. A short steep wall leads to easier climbing and a two bolt anchor to the right of the spruce tree.
Decent:
Scramble/walk off to the right and regain the windy point ridge trail.